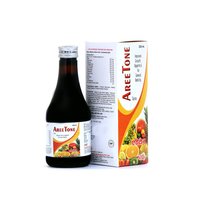 Areetone Family Tonic
Product Description
Our clients can avail fresh range of Areetone Family Tonic from us that can be used as a foundation for the management of any chronic disorder, or to promote optimum health and energy levels. It is suitable for people who is suffering from depressed mood, fatigue, digestive complaints, memory enhancement, and the effects of aging. Our tonic contains herbals extracts that are beneficial for the digestive system and circulatory system. This Areetone Family Tonic can also be used as a supportive health measure during times of excess physical or mental stress.
Features:
Long shelf life
Accurate composition
Highly effective

COMPOSITION
Each 10ml contains extracts of:-
Palak ext. (Spinacia oleracea) 100mg
Chukunder ext. (Beta vulgaris) 100mg
Shatavar ext. (Asparagus racemosus) 100mg
Aswagandha ext. (Withania somnifera) 150mg
Kauch ext. (Mucuna pruriens) 100mg
Arjun ext. (Terminalia arjuna) 100mg
Safed mushli ext. (Asparagus adscendens) 100mg
Vidarikand ext. (Ipomoea digitata) 100mg
Pipramool ext. (Piper longum) 50mg
Sonth ext. (Zingiber officinale) 30mg
Kali mirch ext. (Piper nigrum) 30mg
Piper ext. (Piper longum) 30mg
Loh bhasma soluble 25mg
USAGE AND BENEFITS
Inhibits and reduces free radical damages
Builds natural resistance against recurrent infection.
Regulates all metabolic activities.
Supplementary nutrition in pregnancy and lactation
Improves psychological functions.
Significant antioxidant activity as well as an ability to support a healthy immune system.
Boost defense system against cold & flu viruses.
Relaxes the mind, rejuvenates the body, and increases resistance to stress.
Help the body adapt to physiological and psychological stress.
Antioxidant that supports joint mobility and resistance to fatigue.
DOSAGE
One to two teaspoonfuls twice a day.
AVAILABILITY
Pet bottle of 100ml & 220ml.