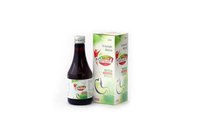 Ayurvedic Acidity Relief Syrup
Product Description
We are successfully emerged in processing and offering an effective range of Ayurvedic Acidity Relief Syrup. It is a very dependable antacid that contains Trifla, Jethimadh, Chitrakmool, Bhringraj extracts that are checked on various quality parameters to ensure the ingredients purity. Our syrup instantly relief acidity and cures peptic ulcer. Due to its accurate consumption, this Ayurvedic Acidity Relief Syrup is safe to consume. It is available in different packaging options as per clients' demands.
Features:
Neutralizes acute hyper-acidity
Allays Heartburn quickly
Coasts Angry gastric mucosa
Syrup: One to two teaspoonful three times a day.
Composition :
Each 5 ml contains extracts of
Bhringraj ( Eclipta Alba ) 500 mg.
Pudina (mentha Piperrita) 300 mg.
Chavya (Piper Chaba ) 300 mg.
Chitrakmool (plumbago Zeylanica ) 200 mg .
Triphala 200 mg .
Patol patra ( Trichosanthies dioica ) 200 mg.
Jethimadh ( Glycyrrhiza Glabra ) 200 mg.
Jeera (ciminum cyminum ) 50 mg.
Ajwain (Ptychotis ajowan ) 50 mg.
Sowa ( Anetham Sowa ) 50 mg.
Viavidanga (embella ribes ) 50 mg.
Saunf ( Foeniculum Vulgare ) 50 mg.
Marorphali ( Helicteres isora ) 50 mg.
Flavoured syrupy base q.s.