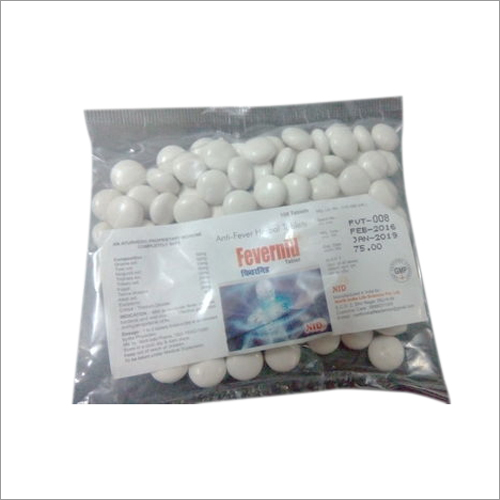 Ayurvedic Fever Tablet
Product Code : b19
Product Description
According to Ayurveda, fever is a way of body to offend off any infection. Different allopathic treatments that are used to lower down the fever can provide strength to the invaders. Ayurveda says that fever is the body's natural healing process that excite the immune system to wipe out infectious bacteria, viruses, etc, from the body.
Fevernid is an Ayurvedic Fever Tablet formulated with utmost cure to provide relief from fevers as well as reduced immunity. This keeps the body free from any risk of fever, body ache and bad cold. This is a special blend of herbal medicines to enhance the natural ability of body. It offers fast, safe, as well as effective comfort from fever, headache, pain, body ache and other discomforts.
TABLET COMPOSITION
Each coated tablet contains:-
Dhania ext. (Coriandrum sativum) 60mg
Kajjali 25mg
Nirgundi ext. (Vitex nigundo) 60mg
Tamra bhasma 25mg
Trikatu ext. 30mg
Triphala ext. 60mg
Tulsi ext. (Ocimum sanctum) 60mg
DOSAGE
Two tablets thrice in a day after meal with water or as directed by the physician.