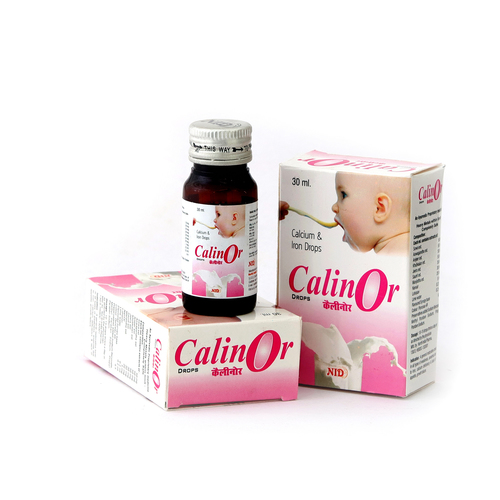 Ayurvedic Iron Calcium Syrup and Drops
Product Code : 07
Product Description
Fostered with immense domain expertise, we are engaged in offering our clients superior quality Ayurvedic Iron Calcium Supplements. These supplements help to improve health, boost (calcium & iron) metabolism, relieve flatulence & gripping teething children. Formulated under the stern guidance of our deft pharmaceutists using best-in-class herbal ingredients, these are also recommended in pregnancy & lactation. To meet the diversed need of our clients, we are offering these Ayurvedic Iron Calcium Supplements in syrup and drop type at cost-effective prices.
Features:
Long shelf life
Indication:
Improves Health, Boosts (Calcium & Iron) Metabolism
Recommended in Pregnancy & Lactation
Also Relieves Flatulence & Gripping
Teeting Children
Dosage:
Syrup: One to two teaspoonful three times a day.
Drops: 10-15 drops thrice a day
Packing:
Syrup: 100 ml / 220 ml
Drops: 30 ml.
Composition:
Syrup

Each 10 ml. Contains aqueous extracts of:

Bansa

500 mg.

Jeera

300 mg.

Saunf

300 mg.

Soya

300 mg.

Asgandha

200 mg.

Khubkalan

200 mg.

Anantmool

100 mg.

Manjishtha

100 mg.

Navsar

50 mg.

Satva Nimboo

20 mg.

Lohasav (R.T.S.)

2 ml.

Lime Water

2 ml.
Drops

Each ml. Contains extracts of:

Sowa ext.

50 mg.

Aswagandha ext.

50 mg.

Anjeer ext.

50 mg.

Khubkalan ext.

50 mg.

Jeera ext.

30 mg.

Saunf ext.

30 mg.

Manjistha ext.

20 mg.

Navsar

5 mg.

Lohasav

0.2 ml.

Lime water

0.2 ml.