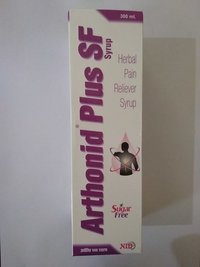 Ayurvedic joint pain SF Syrup
Product Description
ARTHONID SYRUP
From rheumatoid arthritis to juvenile arthritis to osteoarthritis, every single disease causes unbearable pain and trouble. In addition, people suffering from these diseases also tolerate stiffness in joints and problem in movement. If you are also suffering with arthritis, you should go for a reliable treatment that targets every symptom of the problem.
Arthonid, an Ayurvedic Joint Pain Syrup SF, is a specially blended herbal medicine that is designed to balance the bodys natural capability to offer fast, safe, as well as highly effective comfort for irritation and pain of rheumatoid arthritis discomfort.
DOSAGE
Two teaspoonfuls thrice in a day with water after meal or as directed by the physician.
PACKING SIZE
Pet bottle of 220ml.