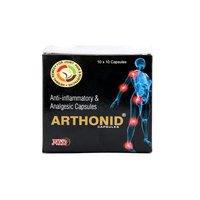 Joint Pain Relief Capsule
Product Description
Our company is engaged in processing and offering a best range of Joint Pain Relief Capsule. Our offered capsule contains pure and best herbal extracts that are sourced from trusted vendors. This capsule is highly appreciated among our clients for its highly effective nature. It helps to block pain signals, relax stiffness and lessen edema in the joints. To maintain its freshness, Joint Pain Relief Capsule is safely packed and can be customized in different packaging options as per clients' demands.
Features:
Instant relief
Safe to consume
Long shelf life

CAPSULE COMPOSITION
Each capsule contains:-
Guggul Salai ext. (Boswellia serrata), Guggul ext (Balsmodendron mukul) each 100mg, Sonth ext. (Zingiber officinale), Ashwagandha ext. (Withania somnifera), Lahsun shuddha (Allium sativum), Surjan ext. (Colchicum luteum), Sat puspa ext. (Peucedanum graveolens) each 50mg, Haldi ext. (Curcuma longa) 40mg, Rasna ext (Pluchea lanceolata) 10mg
USAGE AND BENEFIT
Help reduce pain and inflammation
Help protect the production of naturally occurring pain killers (endorphins and encephalin)
Help block pain signals
Help relax stiffness
Help lessen edema in the joints
Ease pain without side effects like addiction or drug tolerance after continued use
DOSAGE
Two capsules thrice a day with water after meal or as directed by the physician.
SIDE EFFECTS
No adverse/ toxic effects have ever been observed in short/ long term usage of Arthonid- capsule, in recommended dosage.
CAUTION
Keep the capsule away from direct sunlight, moisture and reach of children.
AVAILABILITY
Blister pack of 10 x 10 capsules.